PROFILE
Headquartered in High-tech Zone of Shijiazhuang City, Hebei province, Jinhuan Construction Group Co., Ltd was established in 2003. It is a large group corporation specialized in structural steel design/manufacturing/construction and general contracting. Currently we have over 2,000 employees with annual manufacturing capacity 200,000 tons of structural steel and annual turnover of 3 billion RMB in general contracting.
Jinhuan obtained a number of qualifications in China, including grade-1 qualification as general contractor for construction engineering, grade-1 qualification for steel structure engineering and contracting, A-level qualification for light-weight steel structure engineering, and qualification (special grade) for manufacturing company of steel structure and so on. Jinhuan was also granted with several international qualifications, such as AISC certificate of American Institute of Steel Construction, CWB certificate of Canadian Welding Bureau, and EN 1090 and EN 3834.
Jinhuan's fabrication shops are state approved National Prefabricated Construction Industrial Bases. Some awards we received include "China Steel Structure Gold Award", "Anji Cup" (high-quality project of Hebei province), "Xingshi Cup" (high-quality project of Shijiazhuang city), and "Congtai Cup" (high-quality project of Handan city) etc. For many years now, Jinhuan has received numerous honors such as "Credible Enterprise of Hebei Province", "Credible Company of China Construction Steel Structure Industry", "5A-Grade Integrity Enterprise of Construction Bidding in Hebei", and so on. We were also recognized as "Top 20 enterprises in China construction steel structure industry" by the China Construction Metal Structure Association, national "High-tech Enterprise", "Hebei Provincial Industrial Enterprise R&D Organization", "Steel Structure Construction Engineering Technology Research Center", and "Hebei Provincial Enterprise Technology Center" etc.
Jinhuan has established offices and subsidiaries throughout China and overseas and has created an integrated operational system to serve design, manufacturing, and construction needs. Based on those we are able to provide our clients with the finest comprehensive solutions from general contracting to steel structure design/manufacture/erection.
People are key to Jinhuan's success. We strive to building up a professional team and has trained a large number of specialists including registered architects, registered structural engineers, registered construction engineers, and registered cost engineers. Meanwhile, we recruited new graduates and senior technicians with background of civil engineering, steel structure welding, material forming, and trained out a number of welding workers who were granted with international welding certificates under US, Canada, and European standards.
To pursue state-of-the-art technology and continuously maintain our competence, Jinhuan collaborated with some most reputable universities or research institutes in the field of steel structure in China, such as Tsinghua University, Tongji University, and Jingye Institute. We have obtained 15 patents concerning corrugated webs, steel bar truss floor slabs, and buckling supports and so on. We also engaged a number of domestic steel structure experts to secure our access to the most advanced domestic and international concepts and technologies of steel structure construction.
Over the past 18 years, Jinhuan has completed numerous projects in many countries or regions such as North America, the Middle East, Southeast Asia, and Africa. With our excellence of quality and industrial reputation, Jinhuan successfully executed a large number of domestic high-end projects in recent years, such as National Convention and Exhibition Center in Tianjin, Hebei Olympic Sports Center Stadium, and Wudeli office building. Meanwhile, Jinhuan put great efforts in exploring foreign markets and made great progress. In 2017, Jinhuan performed SoFi Stadium, the most influential public project in the United States over the past two decades. As the vender of the roof system which is the most complex steel structure of the project, Jinhuan earned reputation for its high quality and manufacturing excellence which even exceeded the Owner's expectation. Los Angeles (W)rapper Building is another featured project Jinhuan undertook in US and is currently under fabricating in our shop. We are confident in delivering the same high-quality on this project and making it another showcase of Chinese quality and workmanship to the world. These two projects together with the other completed ones, such as American Dream, Zurich Insurance North America Building, and Doha Building in Qatar, will become local landmarks and highlights in their cities.
We realized that our development will not be sustainable without supports from community, so it is our commitment to contributing back to our society. Over the years, Jinhuan has been an active player in community welfares. As co-founder of the charity organization, Hebei Joint Action Student Aid Foundation, Jinhuan has donated more than 20 million RMB since the foundation was established in 2007. The fund was designated to provide living expenses and supplies, such as daily necessities and stationery, to those needy students from rural area especially poverty families in Hebei. Jinhuan also sponsored social events and activities, such as summer camps, to help those students to build up confidence and passion of spreading care and love in society. In order to feedback fellow villagers in Guantao County where our Handan fabrication base located, Jinhuan set up "Jinhuan Encouragement" Scholarship in 2014 to support and encourage the outstanding high school graduates for 6 consecutive years.
"Quality Assurance, Win-win Cooperation, Century Enterprise, Charitable Giving" are Jinhuan's missions throughout our operation. We strive to carry the principles of best quality, integrity, great service, and win-win cooperation in long run. "Construct best-in-class buildings, pursue world-class excellence" is not only the company slogan, but also philosophy that every Jinhuan people embraced. We will keep up with innovation on business and manufacturing bases and continuingly optimize products quality and improve service and technology, in order to archive great-leap-forward development next.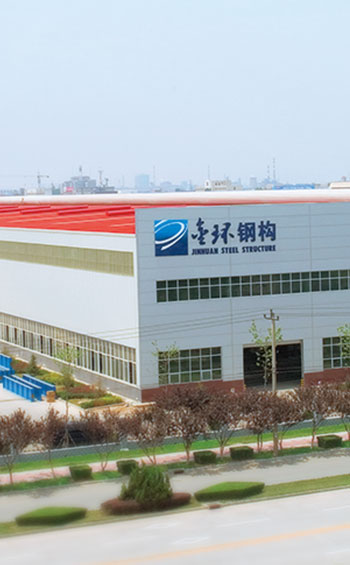 Registered Capital
320 million RMB
Annual capacity
200,000Ton
Annual turnover
3billion RMB